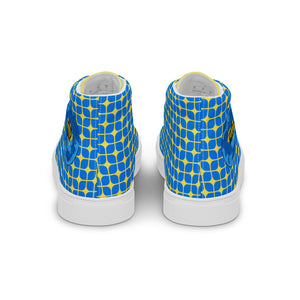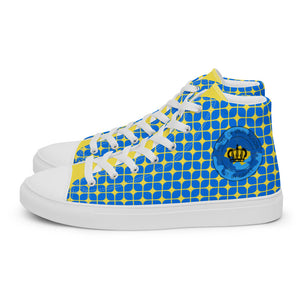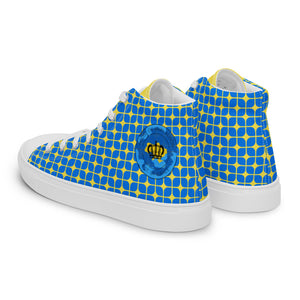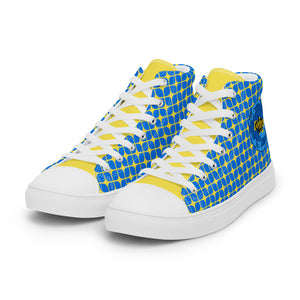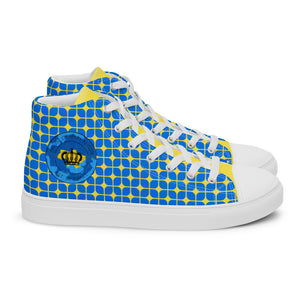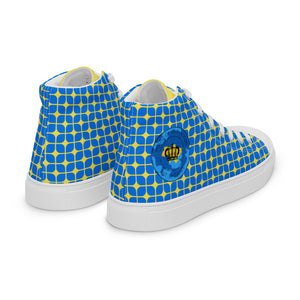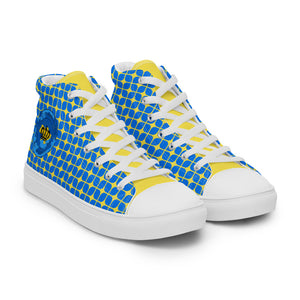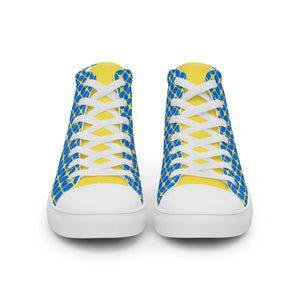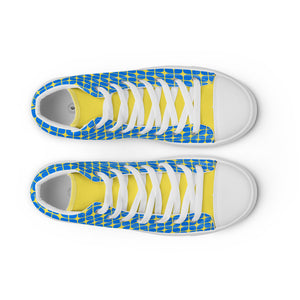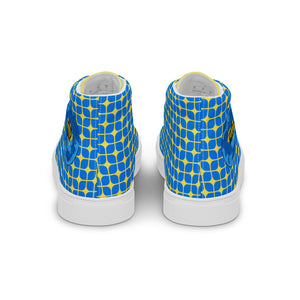 Peace for Ukraine- Blue and Yellow Geometric Patterned-Women's high top canvas shoes
Enjoy these fun blue and yellowed geometric patterned canvases whilst supporting a good cause. These pair of canvases are inspired by the colours of the Ukrainian Flag and the wonderful people of Ukraine. The yellow maps of Ukraine embedded in a blue globe, on both sides on these canvases, are symbolic of the fact that Ukraine is surrounded by the love of God, in spite of the war. As you wear these pair of canvases remind yourself and others to pray for and support peace in Ukraine. Show your support and solidarity today for the people of Ukraine.
• 100% polyester canvas upper side
• Ethylene-vinyl acetate (EVA) rubber outsole
• Breathable lining, soft insole
• Faux leather toe cap
• White laces
• Padded collar, lace-up front
• Blank product sourced from China
Important: This product is available in the following countries: United States, Canada, Australia, New Zealand, and Japan. If your shipping address is outside these countries, please choose a different product.
Disclaimer: The shoes will have a glue-like smell when opening the box. The smell will disappear a few days after the shoes are unpacked.
Size guide
| | | | | |
| --- | --- | --- | --- | --- |
|   | US WOMEN | UK | EUROPE | FOOT LENGTH |
| 5 (inches) | 5 | 2 ½ | 35 ½ | 8 ½ |
| 5.5 (inches) | 5 ½ | 3 | 36 | 8 ¾ |
| 6 (inches) | 6 | 3 ½ | 36 ½ | 9 |
| 6.5 (inches) | 6 ½ | 4 | 37 ½ | 9 ¼ |
| 7 (inches) | 7 | 4 ½ | 38 | 9 ¼ |
| 7.5 (inches) | 7 ½ | 5 | 38 ½ | 9 ½ |
| 8 (inches) | 8 | 5 ½ | 39 | 9 ½ |
| 8.5 (inches) | 8 ½ | 6 | 40 | 9 ¾ |
| 9 (inches) | 9 | 6 ½ | 40 ½ | 10 |
| 9.5 (inches) | 9 ½ | 7 | 41 | 10 |
| 10 (inches) | 10 | 7 ½ | 42 | 10 ¼ |
| 10.5 (inches) | 10 ½ | 8 | 42 ½ | 10 ½ |
| 11 (inches) | 11 | 8 ½ | 43 | 10 ¾ |
| 11.5 (inches) | 11 ½ | 9 | 44 | 11 |
| 12 (inches) | 12 | 9 ½ | 44 ½ | 11 |